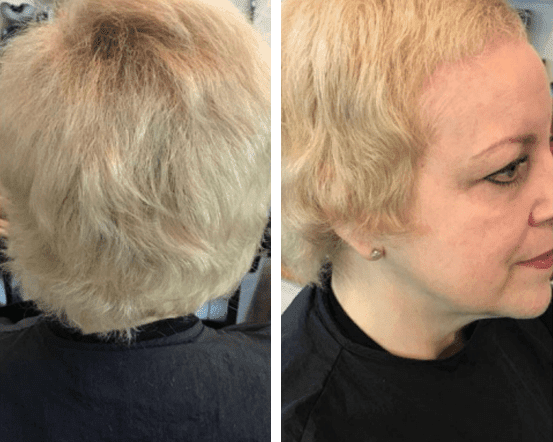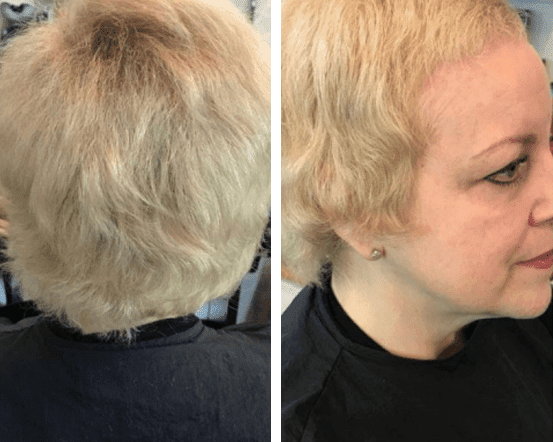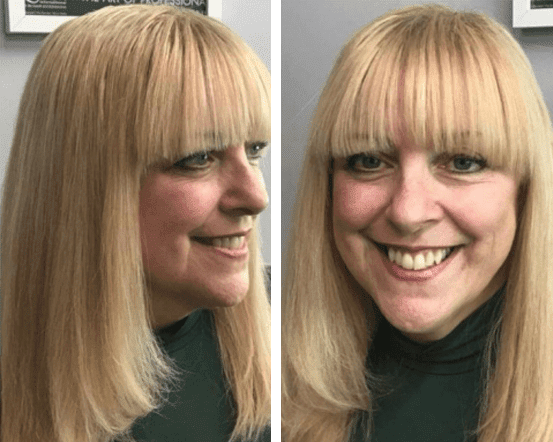 Michelle's
STORY…
Having breast cancer is tough but losing my hair to chemotherapy was one of the worst things about the disease; losing it felt like losing my identity and confidence too. Even worse, having no hair was a signal to others that I was ill and I desperately didn't want to be seen as a cancer victim. I shaved off all of my hair as the end of treatment approached – but all I wanted was my hair back.
Thankfully, six months after treatment, my hair was long enough for extensions and after researching, I discovered Racoon's Hair in Recovery system and approached Jenna, a Racoon trained Hair in Recovery specialist for a consultation. I was so nervous going to a salon I didn't know and showing a hairdresser who I wasn't
familiar with my hair – or rather lack of it. From the minute I stepped through the salon door I was put immediately at ease and there were no pitying looks. For Jenna, it was a normal day and that's how she made me feel, just a regular day, comfortable and relaxed.
Once Jenna had explained the process and aftercare – I was sold! Even so, on the day of application, I was nervous, was convinced I'd hate them, that the bonds would show and that everybody would 'know' I had extensions in. How wrong I was. The Luxe Bonds were totally invisible and looking in the mirror, seeing myself with lovely long hair again made me cry with happiness. I immediately felt confident and well on the road to normality.
Having Racoon extensions brought sunlight and confidence back to my life whereas previously I'd been feeling very dark and wanting to hide away. After a year of wearing extensions, my hair had grown long enough to go without. Once the Luxe Bonds were removed, there was absolutely no damage to my hair, it was in great condition and I have no hesitation in recommending Racoon's Hair in Recovery service to others with a similar need.
HIR Client
Michelle Solak-Edwards
Racoon HIR Specialist
Jenna Bright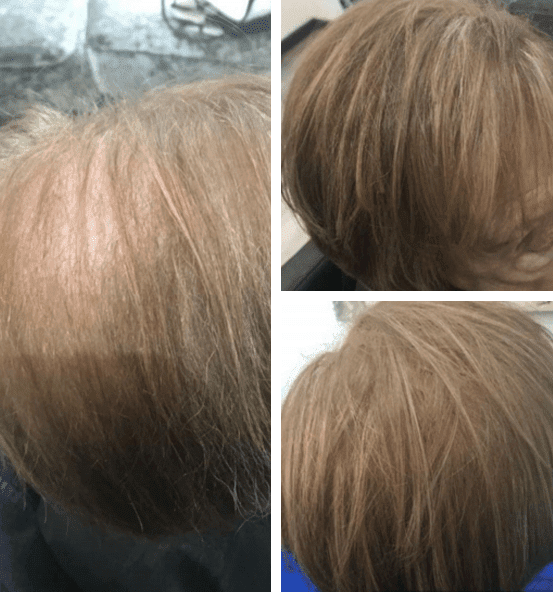 Lisa's
STORY…
This lady inspired me to do my Hair in Recovery course, she started with hair loss 8 years ago, due to medical hair loss condition, she had been to numerous places all offering her wigs, she didn't want to go down that route so she kept asking me what I could do to help her. I enquired to Racoon as I had been a qualified in Luxe Bond for 10 years, you offered me the Hair in Recovery course and I jumped at the chance! My client and I haven't looked back since, her face when I finish makes my hairdressing career exciting, fun and passionate giving my client (who I've done for 20 years) her confidence back, this is the most rewarding feeling. She tells me every week when I blow wave her hair that no one ever notices; she doesn't worry when she looks in the mirror first thing in the morning anymore. Thank you Racoon for offering this incredible service and discounts. Doreen said "Hair in Recovery has changed my life, I'm much more confident with my new look."
HIR Client
Doreen Holden, Bury
Racoon HIR Specialist
Lisa Chestney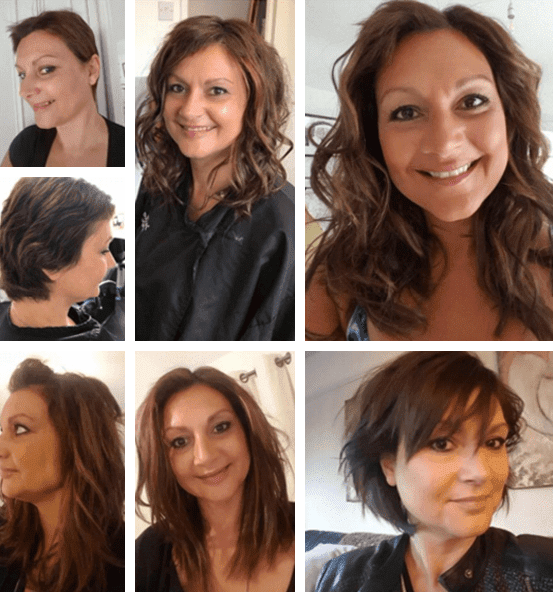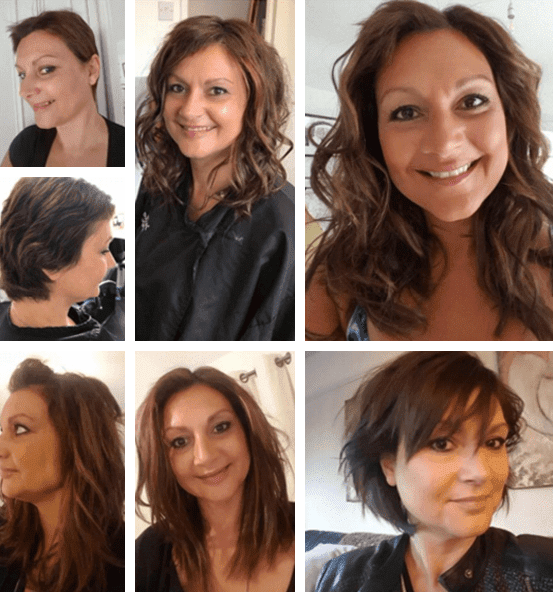 Helen's
STORY…
Losing your hair during chemotherapy is one of the toughest challenges a woman can face. It seems to take forever to grow back and in many cases, like mine, being forced to have short hair when you have worn it long all your life, can leave you lacking confidence and not like your old self. I had never heard of the Racoon Hair in Recovery System, but discovered it on a breast cancer forum. I was quickly put in touch with Emma, who I can only describe as my fairy godmother. My hair was just an inch short in places, and she worked absolute wonders in creating a long hairstyle. It literally felt like a miracle. She has such a warmth and understanding for how hair can make a woman (or man) feel. I had recovered from cancer, but emotionally was struggling with all the changes until I met Emma and she weaved her magic and transformed me back to my former self. I wore extensions for 7 months while my own hair grew longer, and found the extensions easy to maintain, they were worth absolutely every penny, and very much part of my recovery process. My own hair recently has become long enough for me to take the plunge and have them removed, with Emma helping me choose a style and cutting it to shape. I can't thank her enough.
HIR Client
Helen Thomas, High Wycombe,
Buckinghamshire
Racoon HIR Specialist
Emma Dickinson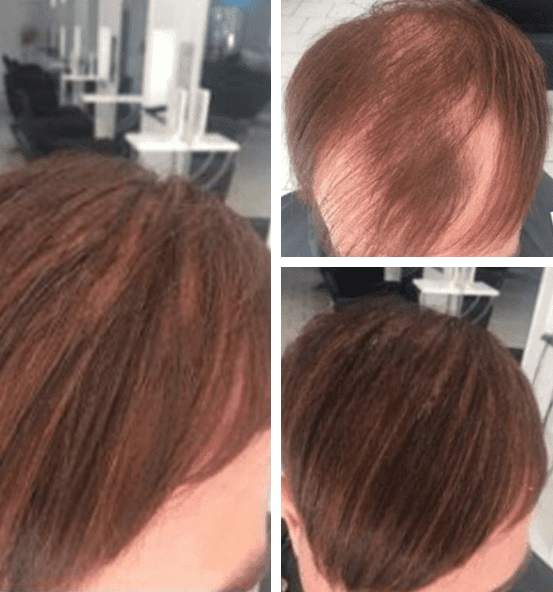 Daniel's
STORY…
I recently had Racoon hair extensions in Precision Cardiff, I didn't think that they would make me feel as good as they have. At first I was apprehensive about how they would turn out but after seeing the result to say I am extremely ecstatic about them is an understatement. I am still in awe on how brilliantly the colour matches the hair that I do have, most people have not recognised me or some seem to think I am just styling my hair differently. It is truly amazing, I never thought that something like this would be suitable for me, as my hair is really fine and I've not really heard of men having this sort of thing done before Lawrence at Precision in Cardiff recommended Racoon extensions to me.
Throughout the whole process he was patient and very professional in keeping me up to speed with what was happening and taking me through the aftercare of the hair and the different products. To sum them up they are just perfect! They have given me the confidence that I thought I lost, you truly have an amazing product so just thank you to you guys and thank you to Lawrence for suggesting and implementing such a life changing product for me! He is a great ambassador for your brand, I think I'm hooked for life now! Thank you!!!
HIR Client
Daniel Burman, Wales
Racoon HIR Specialist
Lawrence Taylor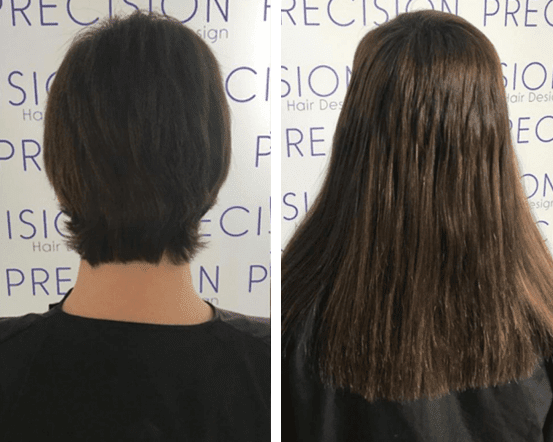 Emma's
STORY…
I can't praise Lawrence and his team enough. I love, love my swishy new Racoon Hair in Recovery extensions. You've made me feel like me again, thank you!
HIR Client
Emma
Racoon HIR Specialist
Lawrence Taylor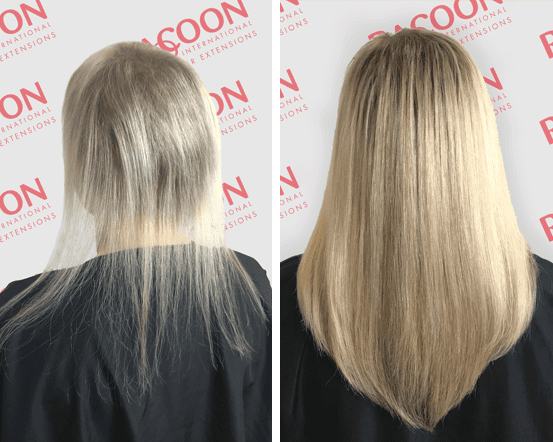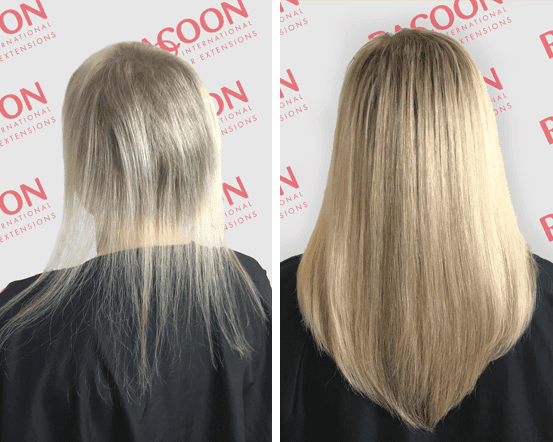 Jodi's
STORY…
I cannot even begin to explain how Hair in Recovery has changed my life. The transition from 'cancer patient' to 'back to normal' brings with it so many hurdles, but trying to adjust to full time work in a customer facing sales role in the beauty industry was always going to be tough, and wearing a wig just wasn't what I wanted. When I met Lawrence and he told me how Hair in Recovery had been developed specifically for post cancer clients by trichologists and how he could grow my hair safely within a year, I just knew I could trust him completely.
The application itself was fun and interesting and the end result was just phenomenal. Lawrence matched it to my previous hair just perfectly. I have to say how easy it is to maintain as this was a worry for me, but it really has been fabulous. My only wish is that it was more widely known, my hospital and local Maggie's centre did not tell me, I really had to research. But I will make it my mission to spread the word!
HIR Client
Jodi, Gloucester
Racoon HIR Specialist
Lawrence Taylor
Hair in Recovery really helps women to regain confidence and boost their self-esteem. Working with Racoon's gentle Luxe Bond extensions system means we can create brilliant looks for each person. No more wigs – just gorgeous glossy hair extensions and ladies brimming with happiness. After the service we invariably end-up hugging with tears of joy to see the transformation. Hair in Recovery is a truly wonderful programme.
Racoon's products and training system used in the Hair and Recovery programme are second to none in the extensions market; no one else goes to the extent that they do to ensure the health of the clients' hair and scalp.
Throughout my career I have seen the devastating effects that women have experienced due to treatments like chemotherapy – both physical and psychological. Looking great has amazing healing effects –it's a fantastic programme.

SPECIALISING IN MEDICAL HAIRLOSS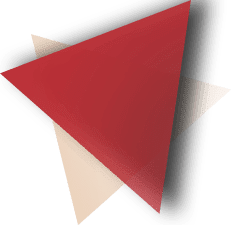 LEARN
BEST
browse our courses
Expert
COURSES
hair
IN recovery
a course specifically developed to help individuals with recognised hair loss
FIND YOUR NEAREST CERTIFIED
why wait for beautiful hair?
There are thousands of certified stylists around the globe trained by the very best ready to make your hair extensions experience one beyond compare.To find your nearest certified "Racoonistas", simply click the button below.
[elfsight_instagram_feed id="1″]
SUBSCRIBE TO OUR MAILING LIST